Since its foundation, iQtec has committed to establish itself as a leading company in the management of IT assets in Spain. With their experience, they have implemented strict management processes that meet the highest standards internationally.
Part of their business philosophy has been to invest a great effort to provide the highest quality of service and the best guarantees for their customers. To achieve this, they have recently decided to consolidate this work by certifying the quality of their recovery processes, IT equipment buyback, data erasure, inventory, technical audits and system platforming.
We are pleased to present
iQtec's Certificate: ISO 9001:2008
and their commitment to to strengthen the relationship with other companies.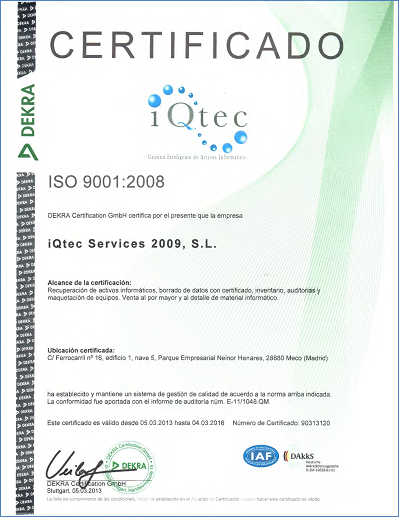 Trade Safe!
Pepe Bermúdez
Marketing & Sales www.TheBrokerSite.com
Mobile: +52 (1) 55 5456 2816
LinkedIn Profile: http://nl.linkedin.com/in/pepebermudez
MSN-Skype & Trillian: www.TheBrokerSite.com
AIM & G-Talk: Pepe@TheBrokerSite.com
Yahoo! Messenger: Pepe_TheBrokerSite