Posted by Pepe on February 16th, 2011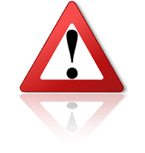 One of our members received a request for credit from a fraudulent contact hidding behind the name of "CG SALES NETWORKS FRANCE SA". This contact made an order and promised to send payment by February 10th. They sent over a signed and stamped purchase order (they actually have a STAMP) albeit basic. They sent over bank details for Banque Populaire to show their validity and, presumably, hoping a release on credit.
Trying to call the number on the contact's email, the number appeared as unavailable. When calling the number on the website, the company exists. The VAT number received in the fraudulent email exists, the name of the person the email is from is true – he is a director but he would never email out apparently. The 'legitimate company' explained that since December last year they have received some strange invoices and they have involved the police.
Please be very careful when being asked for credit. Verify that all the information from the contacts belong to the real company by checking their website,
TBS Profile
or references. Seems someone is COPYING another companies identity to get credit terms.
This is the email:

From: DEJAEGHERE Jean Pierre [mailto:cgsalesnetworks@gmail.com]
Sent: 17 January 2011 09:18
To: cgsalesnetworks@gmail.com
Subject: INFO

Dear sir,

We are contacting you to order the material you are selling.
Is it possible to make payment for 15 days We would like to request a credit limit with your Insurance company

Regards,

DEJAEGHERE Jean Pierre

CG SALES NETWORKS FRANCE SA
41 BD VAUBAN
IMMEUBLE ARAGO I
78280 GUYANCOURT
SIREN 300511888
SIRET 30051188800046
APE 4669A
TVA FR 22300511888
Tel : 339 75 18 04 92
Fax : 334 83 43 09 72
FRANCE

When in doubt, please feel free to contact us for reference of a company or trader.
Trade Safe!
Pepe Bermúdez
Marketing & Sales www.TheBrokerSite.com
Mobile: +52 (1) 55 5456 2816
LinkedIn Profile: http://nl.linkedin.com/in/pepebermudez
MSN-Skype & Trillian: www.TheBrokerSite.com
AIM & G-Talk: Pepe@TheBrokerSite.com
Yahoo! Messenger: Pepe_TheBrokerSite