After a long and intense study in 2002, Frontier Computer Corp., founded in 1976, came to the understanding there was a need for a global-orientated office. Frontier Computer Corp., headquartered in Michigan, knew this would be the right time to open a European sales office and technical facility. The choice to open a facility in Nijmegen, the Netherlands, was well thought out and has proved to be an invaluable decision.
The initial department of Frontier BV became a high quality supplier of remarketing IT equipment and has been recommended by many customers committed to their high quality standard while maintaining a superior level of service for those seeking high quality refurbished products from manufacturers such as IBM, CISCO, Sun Microsystems and Hewlett Packard. Frontier BV`s remarkable It department always has been vendor independent.
The second department at Frontier BV is the Storage division, we found our passion in Storage, with a strong specialism in tape storage. Helping our customers with their questionnaires and help them to achieve the highest level in effective storage.
The storage division has a strong lead to Oracle. Last year Frontiers storage reach the title of Oracle gold member.

The repair and maintenance department fulfills Service level agreements with high value customers in many different branches, Alpha server and tape library environments as most common and business critical industrial systems as a growing opportunity.
The rebirth of tape storage gave Frontier BV an new direction into the broadcast industry. Frontier strong knowledge's helps film/audio professionals the reach their goals in the new tape storage.
Storage and historical back-up for ICT, broadcast/ media and Entertainment customers. Medical/ Healthcare storage infrastructures.
Moving digital content off of expensive video servers and into our cost-efficient archiving systems. Tape storage specialists.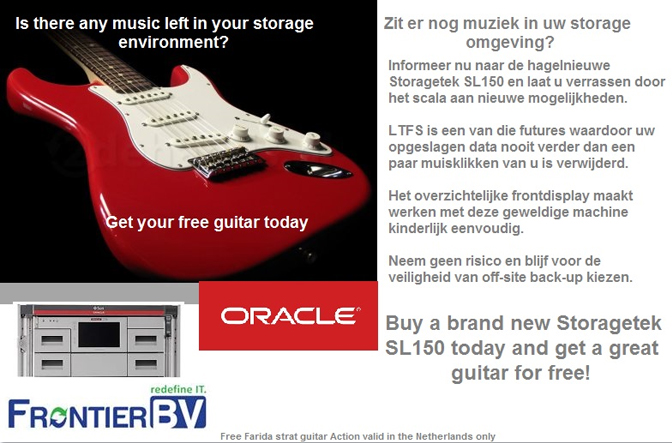 Licensed Oracle ZFS Storage ZS3 Sales Specialist and StorageTek SL150 Modular Tape Library Specialist