Article found on
Blancco's Company Info News
on May 22nd 2014 (http://www.blancco.com/en/company-info/press-releases/2014/dcs-award/)

Data erasure leader recognised for outstanding data security products for datacentres seeking to meet regulatory requirements and reduce hardware destruction
London, UK, May 22, 2014
–
Blancco
, the global leader in data erasure and computer reuse solutions, has been awarded the Information and Communications Technology (ICT) Security Product of the Year award by Angel Business Communications' DataCentre Solutions (DCS), an international portfolio of magazines, websites, exhibitions and other services geared toward datacentre professionals.
Blancco received the award for exemplary achievement in ICT datacentre security at a gala dinner held at London's Millennium Mayfair Hotel on May 15. The awards dinner honoured leaders in virtually every aspect of datacentre technology—from outstanding datacentre company and managed services provider of the year to companies achieving excellence in a range of datacentre products, including cabling, cabinets, fire safety and energy efficiency.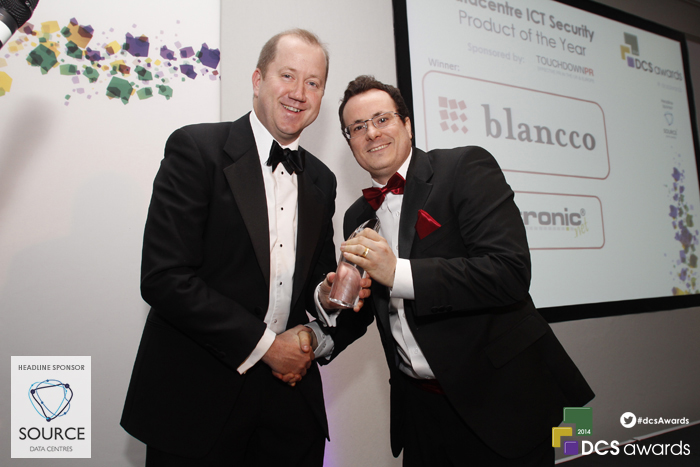 "We are proud to receive this award for our efforts to protect business and personal data," said Ben Jones, Business Development Manager for Blancco UK. "Secure erasure of data from equipment in datacentres is a critical element of a datacentre's security policy. Our solutions help datacentre's execute erasure in a way that meets regulatory compliance guidelines and avoids the physical destruction of hardware, a growing environmental problem worldwide."
Blancco's solutions include erasure software for equipment and storage throughout the datacentre, including server arrays and mass storage devices, as well as targeted erasure of files and LUNs in active service environments. Specialized software for secure removal of virtual server data on VMware platforms is also available.
About Blancco
Blancco is the proven data erasure solution for millions of users around the globe. As the global leader in data erasure and computer reuse solutions, Blancco offers the most certified data erasure solutions within the industry. The company serves users across a wide range of industries, including banking, finance, government and defense. The company's products are highly valued by IT asset disposal professionals around the world. Blancco operates from an extensive network of international offices and partners across Europe, North America, the Middle East, Russia, Asia and Australasia. Blancco is a wholly owned subsidiary of Regenersis, a strategic outsourcing partner to many of the world's leading consumer technology companies. ​More information is available at
www.blancco.com
.​

Congratulations Blancco!
Pepe Bermúdez
Marketing & Sales www.TheBrokerSite.com
Phone: +31 765658275
LinkedIn Profile:
http://nl.linkedin.com/in/pepebermudez
MSN-Skype & Trillian: www.TheBrokerSite.com
AIM & G-Talk: Pepe@TheBrokerSite.com
Yahoo! Messenger: Pepe_TheBrokerSite