FrontierBV is excited to announce their partnership with Peplink to make Peplink products more readily available in Europe.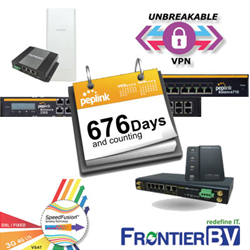 FrontierBV, an affiliate of Frontier Computer Corp. Peplink's North American Distributor, is now a stocking distributor for Peplink and Pepwave covering all of Europe.
FrontierBV is excited to announce their partnership with Peplink to make Peplink products more readily available in Europe. Market expansion in Europe has prompted FrontierBV to soon offer the largest selection and quantity of Peplink's extensive product line in Europe.
The FrontierBV team has expertise in pre-sales and technical support services and is more than willing to answer any questions you may have. FrontierBV also offers FrontierCARE, an enhanced maintenance program for a majority of the Peplink and Pepwave product lines, and extended warranties that can be purchased along with the units through the
online store
For more information contact Richard Koenders at +31 (0) 243660012. If you are not sure which Peplink or Pepwave device would best for your needs, our trained and personable staff will make it easy and painless to make the right decision.
About FrontierBV
FrontierBV is Netherlands largest stock distributor for Peplink Products. We have all models of the Peplink product line and configure and design the right solution for your business. Together with our experienced and professional sellers, FrontierBV also offers in house technical support via our certified Peplink Engineers. For more information, please visit our website.
About Peplink
Peplink is the leader in developing Internet load balancing and VPN bonding solutions. Peplink Balance dual-WAN and multi-WAN routers have been deployed around the world. The products are completely scalable and suitable for companies of all sizes like: state and local governments, industries such as the transportation and logistics companies, hotels, health care, education, datacenters, broadcast industries, IT Infrastructure on ships and Yachts and many more have already enjoyed the benefits of lower costs and increased network reliability. Key to these products' success is their ability to help increase a client's bandwidth, and provide 100% uptime, all while reducing the cost of staying connected. This is accomplished through the elimination or reduction of high cost leased lines, and introduction of low cost redundant DSL, Cable, or Wireless connections to support the network. There are several case studies that have proven the strength of Peplink with companies. If you want more info visit our website to view datasheets and case studies.
Met vriendelijke groet/Best regards,
Richard Koenders
Anything you want to know about tape storage?
Check out our web site:
www.ltotapedrive.nl