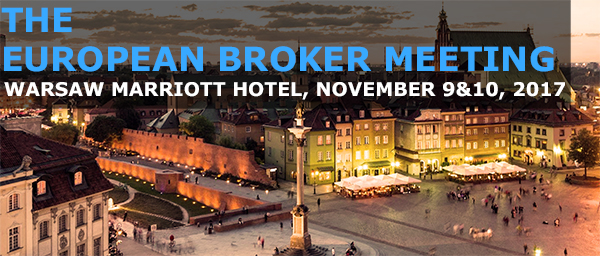 The www.EuropeanBrokerMeeting.com will be organized at the Warsaw Marriott Hotel on November 9th and 10th.
Dear Traders,
With 10 months to go to the www.EuropeanBrokerMeeting.com we are happy to announce that the first 100 companies registered.
Register now and save 100 Euro per attendee, payment is not due till July 2017. Register online here www.EuropeanBrokerMeeting.com/register.php or contact us by email on sales@thebrokersite.com.
See you in Warsaw and Trade Safe,
Mario Biemans
Owner www.TheBrokerSite.com Europe's leading computer trading exchangce since 1999!
+31 621 546 725
These companies already registered:
3 STEP IT OY Finland
3D SYSTEM SALES LTD. UK
3G ASSET MANAGEMENT UK
7DIGITS Netherlands
A.A.B. INTERNATIONAL B.V. Netherlands
AIKEN INFORMÁTICA, S.L. SPONSOR OF THE EBM 2017 Spain
ANELCO GMBH Germany
ARBITECH LLC USA
ARES INTERNATIONAL Netherlands
ARROW VALUE RECOVERY EMEA Netherlands
ASNEW Italy
AT OUTLET Poland
ATF GAIA France
AUCNET DIGITAL PRODUCTS, INC. Japan
BB-NET MEDIA GMBH Germany
BELL IT GMBH Germany
BIG DATA SUPPLY, INC. SPONSOR OF THE EBM 2017 USA
BIS REPETITA France
BITSET D.O.O. Slovenia
BROKER COMPUTER Spain
BROWN BEAR TEAM D.O.O. Slovenia
BÜROSERVICE HÜBNER GMBH Germany
CNE DIRECT, INC. USA
COMBRO TECHNOLOGY LTD UK
COMPULEASE, S.L. Spain
CONCORD REMARKETING GMBH SPONSOR OF THE EBM 2017 Germany
CONNECT IT GERMANY/DENMARK/SPAIN Germany
CPH IT DISTRIBUTION APS Denmark
CTC IT SOLUTIONS Netherlands
CVMM France
DATAMARKED APS Denmark
DEUTSCHE LEASING INFORMATION TECHNOLOGY GMBH Germany
DIABLOS COMPUTER SRL Romania
EASY GLOBAL TRADING GMBH Germany
ECUBEL COMPUTER TRADING BVBA Belgium
EFLEX LTD. UK
ETB TECHNOLOGIES LIMITED UK
ETIC ONLINE Spain
ETREE GMBH Germany
EURO DATA SOLUTIONS S.L. Spain
EUROSIMM LTD. UK
EXPERT COMPANY GROUP SRL Romania
GEODIS LOGISTICS DEUTSCHLAND GMBH Germany
GG SERVERPARTS Sweden
GLOBAL COMPUTER SPARES UK
GLOBAL HARDWARE SOLUTIONS SP. Z O.O. Poland
GLOBAL LIFECYCLE SOLUTIONS EMEA UK
GO COMMUNICATIONS SYSTEMS LTD. UK
HARDWARE ASSOCIATES LTD. UK
HARTMAN COMPUTERS BV Netherlands
HI-TECH COMPUTERS Pakistan
IBM DEUTSCHLAND GBMH Germany
INREGO AB SPONSOR OF THE EBM 2017 Sweden
INTELLIGENT STORAGE SOLUTIONS UK
IT4SALE Netherlands
ITL LOGISTICS GMBH SPONSOR FOR THE EBM 2017 Germany
IUPPITER B.V. SPONSOR OF THE EBM 2017 Netherlands
KALYPTA, S.R.O. Czech Republic
KOMPIK24.PL Poland
LAPSTORE GMBH Germany
LAPTOPPLAZA USA
M2C TRADING France
MCA TECHNOLOGY France
MICRODREAM LIMITED SPONSOR OF THE EBM 2017 UK
MRESELL GROUP Sweden
NERA COMPUTERS SRL Romania
PARTSURFER Spain
PC ARENA SPONSOR OF THE EBM 2017 Hungary
PICS TELECOM INTERNATIONAL LTD. UK
PIRON NETWORKS LTD. UK
POLBIT BARTOSZ POLENDER Poland
PTP IT DISTRIBUTION BV Netherlands
PYRAMID DISTRIBUTION LTD. UK
RAND TECHNOLOGY Hungary
RE-TEK UK LIMITED UK
REFURB APS Denmark
RL NETWORKS Netherlands
SCANDIC IT APS Denmark
SECOND IT STORE GMBH Germany
SERVER CONFIG SRL Romania
SHARIFF ENTERPRISES Pakistan
SIMS RECYCLING SOLUTIONS UK
SOFTWARE NORD Germany
SOMINIS TECHNOLOGY UAB Lithuania
SOVAMAX TRADING GMBH Germany
SPOTBUYER UK
SPRINT COMPUTER SERVICES SRL Italy
SURPLUS TRADERS USA
TECH OUTLET LTD. Bulgaria
TECHNIMAX S.R.O. Czech Republic
TELLUS REMARKETING APS SPONSOR OF THE EBM 2017 Denmark
THE BROKER SITE BV Netherlands
TMP SA Greece
TRADEUROPE SRL Italy
VERENTIS B.V. Netherlands
VT DATA A.S. Czech Republic
WDMI - DIST.MATERIAL INFORMATICO UNIP., LDA Portugal
WISETEK SOLUTIONS LTD. Ireland
XEPTOR IT DISTRIBUTION Netherlands
ZIBRIS AG Switzerland
ZIKOM COMPUTER OUTLET Poland