We would like to welcome Solatek Ltd. to TheBrokerSite.com!

Dear All,
Solatek is delighted to announce our membership to The Broker Site!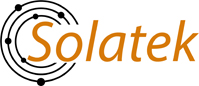 Solatek is a newly founded B2B only Distribution company incorporated in 2017. Despite the company's youth, the directors enjoy a wealth of knowledge and experience in distribution within the consumer electrical industry selling products ranging from:
• Laptops
• Desktops
• Tablets
• Mobiles
• HDD
• RAM
• Components
• Accessories
At Solatek Ltd we physically hold all stock we offer to our customers in these categories and all stock we buy are thoroughly tested, cleaned and repacked into our own packaging ready for our customers to receive in an end consumer ready state, therefore we enjoy less than a 1% RMA rate currently, we also provide a standard 30 Days Warranty on all stock with a purchasable upgrade of 6 Months Warranty or even 1 Year Warranty if required!
Solatek distributes to over 20 countries worldwide and provides a next day delivery service to all European countries, additionally we work with many different export companies to provide stock to locations like Africa, Pakistan and UAE.
We take pride in our dedication to building business relationships by providing the best in customer service, competitive pricing and a personal approach, so get in touch with us today to hear more about the stock we sell and the great prices we can provide, all details are below:
Elliott Beacham
Managing Director | Solatek Ltd
Contact No. | +44 (0) 7545 372 135
Skype | elliott@solatek.co.uk
LinkedIn | https://www.linkedin.com/in/elliottbeacham/
Website | http://www.solatek.co.uk

Trade Safe!
Pepe Bermúdez
Marketing & Sales www.TheBrokerSite.com
Phone: +1 3472846827
LinkedIn Profile:
http://nl.linkedin.com/in/pepebermudez
MSN-Skype & Trillian: www.TheBrokerSite.com
AIM & G-Talk: Pepe@TheBrokerSite.com
Yahoo! Messenger: Pepe_TheBrokerSite