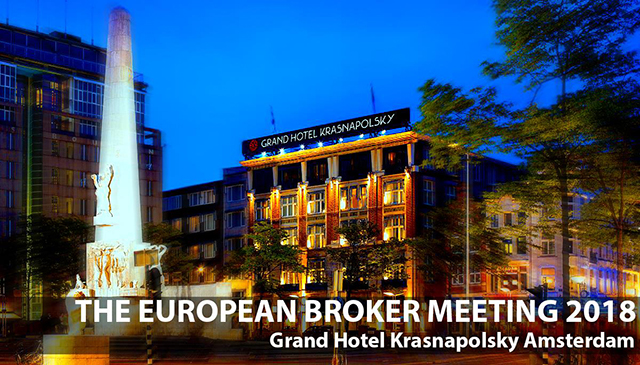 Dear Traders,
Each day traders are registering for the 14th https://www.EuropeanBrokerMeeting.com on the 8&9 of November at the Grand Hotel Krasnapolski, at this moment we have over 100 registrations from more than 55 different companies.
EBM attendance fee is 750 Euro per attendee when you register and pay before the 1st of August and 850 Euro per attendee when you register from the 1st of August. EBM attendance fee includes all lunches, dinners and parties but not hotel and flight. We have negotiated a special room rate with the Grand Hotel Krasnapolski of 275 Euro per night including breakfast. We will provide you with the room reservation link as soon as we have received your registration for the European Broker Meeting.
Please register online here https://www.europeanbrokermeeting.com/register.php to get your name on the list of attendees.
These companies already registered:
3G ASSET MANAGEMENT UK
ALVI TRADERS UK LTD. UK
ARBITECH, LLC USA
ASNEW SRL Italy
AT OUTLET Poland
BB-NET MEDIA GMBH Germany
BIG DATA SUPPLY, INC. USA
BLANCCO SPONSOR OF THE EBM Finland
BROWN BEAR TEAM D.O.O. Slovenia
BUROSERVICE HUEBNER GMBH Germany
CAPITAL IT SERVICES LTD. UK
CEBITGROUP SPONSOR OF THE EBM Poland
CECILFRANCIS Pakistan
CERTUS SOFTWARE GMBH SPONSOR OF THE EBM Germany
COMBRO TECHNOLOGY LTD. UK
DIABLOS COMPUTER SRL Romania
DIRECT HARDWARE SUPPLY Denmark
ECOM MANAGEMENT (UK) LTD. UK
ECUBEL COMPUTER TRADING BVBA Belgium
ETB TECHNOLOGIES LIMITED UK
ETIC ONLINE Spain
EXPERT COMPANY GROUP SRL Romania
FTC Belgium
GLOBAL LIFECYCLE SOLUTIONS EMEA UK
INREGO GLOBAL AB SPONSOR OF THE EBM Sweden
INTELLIGENT BROKERAGE LIMITED UK
ITEKDATA LLC USA
IUPPITER B.V. SPONSOR OF THE EBM Netherlands
KAVANAGH RECYCLING AND RECOVERY LTD. Ireland
LA MICRO GROUP (UK) LIMITED UK
LAPSTORE GMBH Germany
LOMBARD TECHNOLOGY SERVICES LTD. UK
MACREFRESH LTD. UK
MARAELITE KFT Hungary
MARSEUS COMPUTER KFT. Hungary
MCA TECHNOLOGY France
MH-IT Bulgaria
NERA COMPUTERS SRL Romania
OMOLO TRADING Netherlands
PC ARENA SPONSOR OF THE EBM Hungary
PCHANDEL Netherlands
PYRAMID DISTRIBUTION LTD. UK
SCC RECYCLEA France
SECURE IT SERVICES LTD. UK
SIMPATICO NETWORK SRL Italy
SIMS RECYCLING SOLUTIONS EMEA - ITAD SPONSOR OF THE EBM UK
SISO COMPUTERS Netherlands
SOLATEK LTD. UK
SURPLUS TRADERS USA
SZERVERHAZ KFT Hungary
THE BROKER SITE BV Netherlands
TRADEUROPE SRL Italy
UNIPLUS IT A/S Denmark
USMAC UK LTD. UK
ZIBRIS AG Switzerland
Hope to welcome you too in Amsterdam and Trade Safe,
Mario Biemans
Managing Director www.TheBrokerSite.com
Organizer of The www.EuropeanBrokerMeeting.com
Phone: +31 621546725
LinkedIn Profile: http://nl.linkedin.com/in/mariobiemans
MSN-Skype: mario.biemans