Question: Who represents your business in Brussels?
The Broker Site asks your attention for the Free ICT Europe Foundation (FIE); an alliance to create a voice towards European Policy makers, uniting the different players in the channel.
Within the IT aftermarket we see many independent players (ICT Brokers, MVS/Third Party Maintainers, ITAD, Used Software Resellers, etc.) and although a network like TBS support trade, there was no European representative organisation. Your industry was unknown an unheard. A big difference with the serious lobby of the manufacturers.
'Brussels' is sometimes a pain, though it might also be of help. Though if the EU does not get informed, they deal with the information they get. So, to have influence, you need to get heard.
We need to work on solutions. Together, even when some topics do not have direct impact for your own business. To mention a few issues:
Import block (fortress Europe)
Passwords on products that prevent reuse
Restricted access to firmware and software fixes
Limited spare parts accessibility and/or approval for aftermarket compatible parts
Prevent unworkable regulation for Refurbished products
What has been done?
Started with a small group we basically learned how to lobby a few years ago. Once being recognised as the official representative for the IT aftermarket we did get invitations from the EU to support, provide input and participate in projects and consultations.
At this time the political environment is moving into 'our' direction. Sustainability and Circular Economy agreements result that the EU is aiming at extending the life-cycle of products (B2C and B2B) and an open market for maintenance, repair and reuse/resale. This way we can connect many of our topics to the political agenda: We are the players that really support Reuse, Repair and Extending Life-Cycles. We have impact.
Results? Yes!
Processes in Brussels take time; years. First results are there requirements regarding Firmware, access to information, availability of repair info and Data erasure. With other projects serviceability, repairability, refurbishing, access to diagnostics, password issues and software related elements are addressed.
Still work to do (But we will do it for you)
New standards, directives and legislation changes are coming up. We will not just wait.
One of the first things is to get the value of our market for Europe explained in a report. A requirement for further talks with Members of Parliament and the European Commission. We are working on that with Deloitte. An Important element of that will be a market survey, which we hope you will fill out, to help us make you heard and seen.
We are thankful with the support of The Brokersite to get you informed about our activities. Without fuel the engine stops: Please get in touch, review our actions, and consider to support us with a donation – as a Foundation we are depending on these gifts.
Feel free to contact me with any other question and looking forward to meet you in November at the European Broker Meeting in November.
With kind regards,
Jan Hoogstrate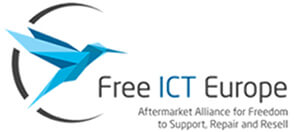 jan.hoogstrate@free-ict-europe.eu
P:
+31(0) 85 011 0136
W:
www. free-ict-europe.eu