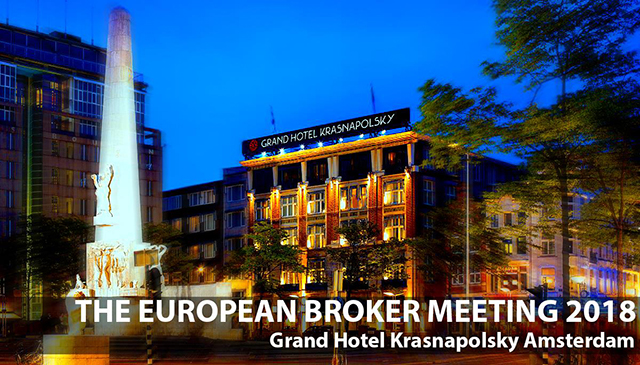 Dear Traders,
More than 530 traders registered for the 14th www.EuropeanBrokerMeeting.com on the 8&9 of November at the Grand Hotel Krasnapolsky in Asmterdam and we are selling the last 70 places for this year's EBM now!
EBM attendance fee is 850 Euro per attendee, EBM attendance fee includes all lunches, dinners and parties but not hotel and flight. We have negotiated a special room rate with the Grand Hotel Krasnapolski of 275 Euro per night including breakfast. We will provide you with the room reservation link as soon as we have received your registration for the European Broker Meeting.
Please register online here www.europeanbrokermeeting.com/register.php to attend the leading get-together for our industry in the world
These companies already registered:
3 STEP IT GROUP OY
A2C SERVICES
ADAPT COMPUTER SYSTEMS
ADVANCED DIGITAL DYNAMICS LTD.
AFB GMBH
AIKEN INFORMATICA, S.L.
AL WASEEM COMPUTER DEVICES TR LLC
ALAM ALFAN GENERAL TRADING, LLC
ALL BIROTIC DEVICES
ALVI TRADERS UK LTD.
AMPLE BAY
ANELCO GMBH
ARBITECH LLC
ARES INTERNATIONAL BV
ARIEN TECHNOLOGIES PTE LTD.
ARROW VALUE RECOVERY SWEDEN AB
ASSET MANAGEMENT IRELAND LTD.
AT OUTLET
ATS TRADE HUNGARY
AUCNET DIGITAL PRODUCTS, INC.
BAREBONE SL
BASENET SYSTEMS LLC
BB-NET MEDIA GMBH
BECHTLE REMARKETING GMBH
BELL IT GMBH
BELMONT TRADING UK LTD.
BIS REPETITA
BITCARE - TECNOLOGIAS DE INFORMACAO, SA
BIZCOM EUROPE SP. Z O.O.
BLANCCO SPONSOR OF THE EBM
BOXED, S.R.O.
BROWN BEAR TEAM D.O.O.
BUROSERVICE HUEBNER GMBH
BUYBACKIT.DK
CAL STATE ELECTRONICS, INC. / TOTAL TECHNOLOGY RESULTS
CAPITAL IT SERVICES LTD.
CDR GLOBAL, INC.
CEBITGROUP SPONSOR OF THE EBM
CELEBRIUM TECHNOLOGIES LTD.
CERTUS SOFTWARE GMBH SPONSOR OF THE EBM
CHG MERIDIAN
CHG-MERIDIAN AG
CLARION COMMUNICATION SYSTEMS LTD.
CNE DIRECT, INC.
COMBRO TECHNOLOGY LTD.
COMEX
COMMERZE-IT
COMPAN IT SP.K
COMPUTACENTER AG & CO OHG
COMPUTER PARTNER
COMPUTER REMARKETING SERVICES LIMITED
COMPUTERS PARTS IT REMARKETING SRL
CONNECT IT GERMANY/DENMARK/SPAIN
CONTINENTAL TECHNOLOGY (HOLDING) CO., LTD.
COVENCO TECHNOLOGIES S.L.
CSI LIFECYCLE EUROPE, S.R.O.
CTC IT SOLUTIONS
D. GERASIS - K. KARPOUZAS G.P. RENAME
DAR AL BARAKAH COMPUTER TRADING LLC
DEUTSCHE LEASING INFORMATION TECHNOLOGY GMBH
DGD DEUTSCHE GESELLSCHAFT FUR DATENSCHUTZ GMBH
DIABLOS GROUP IT
DIGISTEP LTD.
DIGITAL MOUNTAINS
DIRECT HARDWARE SUPPLY
DISCOMPUTER
DOCWIZZ SRL
DOL SERVICE DOROTA DOLATA
EAF COMPUTER SERVICE SUPPLIES GMBH
EASTSTAR TECH PTE LTD.
ECCENTRIC PROFESSIONALS
ECOM MANAGEMENT (UK) LTD.
ECUBEL COMPUTER TRADING BVBA
EET GROUP A/S
ELECTRO, INC.
EMAGIC PTE. LTD.
EOL TRADING LTD.
ETB TECHNOLOGIES LIMITED
ETIC ONLINE
ETREE GMBH
EURATECH GMBH
EURO OPTIONS LTD.
EVERTEK COMPUTER CORPORATION
EXPERT COMPANY GROUP SRL
FEDA TRADING B.V.
FGD
FLP SOLUTIONS LTD.
FREE ICT EUROPE FOUNDATION
FROGTECH
FTC
FULL CIRCLE IT KFT.
GEODIS LOGISTICS DEUTSCHLAND GMBH
GG SERVERPARTS
GLASGOW COMPUTER RECYCLING
GLOBAL HARDWARE SOLUTIONS SP. Z O.O.
GLOBAL LIFECYCLE SOLUTIONS EMEA
GLOBAL RESALE LTD.
GOTONER LTD.
GRAZYNA MIRKA JAN MIRKA KOFAX 2 SP. JAWNA
GREAT WESTERN TRADING
GREEN IT OU
GREEN TECH BUY
GREENBOX
GREENFEVER UNIP LDA
GRUPO DIGALCO SL
GSD REMARKETING GMBH & CO. KG
GT-COMPUTERS
HARDWARE ASSOCIATES LTD.
HARTMAN COMPUTERS BV
HAZELL COMPUTERS
HOXTON MACS LTD.
HUBX
IBM DEUTSCHLAND GBMH
IKONIC TECHNOLOGY
IMCOPEX GMBH
INFORMASUR
INREGO GLOBAL AB MAIN SPONSOR OF THE EBM
INSIDE SYSTEMS A/S SPONSOR OF THE EBM
INSIS D.O.O.
INSPIRE TECHNOLOGY
INTELECA
INTELLIGENT BROKERAGE LIMITED
INTENT NOTEBOOKS
INTERBOLT.EU KFT
INTERCOM IT GMBH
INTERLINK COMPUTER SHOP
INVENTUS GROUP A/S
IT BUSINESS GROUP SP. Z. O. O.
IT MAX UAB
IT PARTS AND SPARES
IT PLACE LTD.
IT SALES SIA
IT TRADER LTD.
IT4SALE
ITEKDATA LLC
ITL LOGISTICS GMBH SPONSOR OF THE EBM
IUPPITER B.V. SPONSOR OF THE EBM
JET COMPUTER
KAVANAGH RECYCLING AND RECOVERY LIMITED
KIMBRER COMPUTER A/S
KOMPRE SP. Z O.O.
KONSER OHG
KONZEPT
LA MICRO GROUP (UK) LIMITED
LA PERIPHERALS LIMITED
LAPSTORE GMBH
LEDMAX ELECTRONICS SPONSOR OF THE EBM
LORIMAX 2000 IMPEX SRL
M2C TRADING
MACLE GMBH
MACQUARIE EQUIPMENT FINANCE LIMITED
MACREFRESH LTD.
MADD ELECTRONICS GROUP
MARAELITE KFT
MARSEUS COMPUTER KFT.
MB TECH BB
MCA TECHNOLOGY
MEMORY.NET
METRO BUSINESS SYSTEMS
METROLOGIE SLOVAKIA
MFP TECHNOLOGY
MH-IT LTD.
MICRODREAM LIMITED
MICROTECH S.C.
MIDTECH AS
MODEC COMPUTER CENTER
MOOSA TECHNOLOGIES FZE
MOTOR CITY COMPUTER
MRESELL
MTJ ELECTRONICS MACIEJ JURKIEWICZ
MULTIPLAN ELECTRONICS SRL
NCOM SRL
NERA COMPUTERS SRL
NEXTECH PARTNERS
NICEPRICEIT GMBH
NORDECON OY
NOTEBOOK12 GMBH & CO. KG
NOTEBOOKSERVICE SRL
OMOLO TRADING
OUT OF USE
OVH
PARTSURFER
PC ARENA SPONSOR OF THE EBM
PC HANDEL
PCRAMA
PHU BARTLOMIEJ STANISZ
PLANBIT BV
PLJ TRADING
PN CALIFORNIA, INC.
PROCURRI EUROPE CIRENCESTER
PSA PARTS LTD.
PYRAMID DISTRIBUTION LTD.
QUATTROM GMBH & CO. KG
RAFCOM
RC GMBH
RCW (RETAIL COMPUTER WAREHOUSE)
RE-TEK UK LIMITED
REEDEX OY
RENEW IT
RESTORE TECHNOLOGY
REUSE TECHNOLOGY GROUP LTD.
REUZADO
RINGROW CO., LTD.
RL NETWORKS B.V.
RNEW SP. Z O.O.
SCALCOM GMBH
SCANDIC IT APS
SCC RECYCLEA
SE.CO. SRL
SECOND IT STORE GMBH
SECURE IT SERVICES LIMITED
SERVER CONFIG SRL
SERVERSCHMIEDE.COM GMBH
SES COMPUTERS B.V.
SIMPATICO NETWORK SRL
SIMS RECYCLING SOLUTIONS EMEA - ITAD SPONSOR OF THE EBM
SISO COMPUTERS
SMART DRAGON SL
SOFTWARE NORD & BLITZEYES GMBH
SOLATEK LTD.
SOLID CIRCLE SERVICES BV
SOMINIS TECHNOLOGY UAB
SPECIALIST COMPUTER CENTRE
SPRINT COMPUTER SERVICES SRL
STS EDUCATION
SWOOP
TAYYIB HITECH
TEC INTERNATIONAL CORPORATION
TECH DEFENDERS
TECH TOM LLC
TECHBUYER
TELLUS REMARKETING APS
TEQPORT SERVICES GMBH
TES-AMM UK LTD.
TEUTO IT REMARKETING UG (HAFTUNGSBESCHRANKT)
THE BROKER SITE BV
THE JOLLY SAVAGE LIMITED
THE PRINTER BROKER LIMITED
TIBACOPIERS SRO
TMP SUPPLIES AE
TOKYO TRADING CORPORATION
TOMAX TECHNOLOGY LIMITED
TRADEUROPE SRL
TRADING.POINT GMBH
ULTRATEC
UNIPLUS IT A/S
UNIVERSAL
USMAC UK LTD.
VDD SAS (EX PCKADO)
VERENTIS BV
VT DATA A.S.
WDMI - DIST. MATERIAL INFORMATICO UNIP., LDA
WEBINSTORE AG
XCHANGE TECHNOLOGY GMBH
XEPTOR IT DISTRIBUTION
XPERIEN
ZIBRIS AG
ZIKOM COMPUTER OUTLET
Hope to welcome you too in Amsterdam and Trade Safe,
Mario Biemans
Managing Director www.TheBrokerSite.com
Organizer of The www.EuropeanBrokerMeeting.com
Phone: +31 621546725
LinkedIn Profile: http://nl.linkedin.com/in/mariobiemans
MSN-Skype: mario.biemans