Dear Trader,
We wanted to share an article published by Free ICT Europe, regarding the resale of Cisco Equipment.
"Sharing a new issue around resale and maintenance of Cisco systems:
an obstacle for resale and totally blocking Repair/TPM
.
When buying, be sure the assets have been released from the Cisco account by previous owner!
The Case, that brought this to our attention:
A trader bought Cisco Meraki systems, originating from a bankrupt company. The systems are <2yr old, though cannot be traded/used as the license does not travel: the systems are still registered under the account of the former owner with Cisco and therefor NO new license can be acquired. No reuse is possible this way.
After buying Meraki, Cisco has adopted Meraki's entitlement policies calling it Smart Licensing. The current product scope is: all edge routers down to the ISR-G2 and all current generation LAN switches - 3850, 2960-X, 3650, etc.
The hardware requires a licence:
The license gives the option to manage the system.
Without a license the system does NOT work: it will block traffic.
The licence includes default 24/7 support
The license is sold separately from Hardware
No perpetual licenses are sold
No license can be bought for a used system if the system is still registered Cisco on the account with a previous owner.System becomes useless.
Policy effects:
Obstacles for the used hardware market
Obstacles for the used software/licenses market
Blocking independent maintenance (24/7 Support is bundled in the License)
Lock-in
Systems shipped to recycling/e-waste
Links:
Licensing FAQ:
https://documentation.meraki.com/zGeneral_Administration/Licensing/Meraki_Licensing_FAQs
Second hand info:
https://documentation.meraki.com/zGeneral_Administration/Inventory_and_Devices/ Cisco_Meraki_Devices_purchased_Second_Hand
Main points:
Used systems: Devices are first removed from the previous owner's dashboard account with Cisco.
This might often not be the case. Meaning a third party has a product that cannot be used anymore; It is stated as the responsibility of the Third Party to get details from previous owner and to get it removed from the dashboard.
In this case the products come from a bankrupt organisation nobody to contact anymore.
Warranties are Non-transferable if sold through a 3 rd party
Cloud Controller licenses are non-transferable.
The licenses are required to manage the system. Not working without it.
Licenses can be bought for 1, 3, 5, 7 or 10 years. This way they avoid the EU restriction that licenses can be traded perpetual is required for this.
Licenses include 24/7 support and firmware updates
Currently lawyers have been asked to look at this for the EU by Free ICT Europe. After that we will start to inform the European Commission and see if other actions can be taken.
Obviously, this policy is the opposite of the directions set by the European Commission, both in general of product specific.
We have shared and discussed this also with some other (US) organisations.
To be continued..!
Vriendelijke groet / With kind regards,
Jan Hoogstrate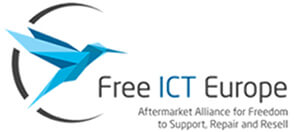 jan.hoogstrate@free-ict-europe.eu
M: +31(0) 6142 33 629
P: +31(0) 85 011 0136
Skype: jhoogstrate
W:
www.free-ict-europe.eu
EU Transparency Register: 004942218376-96"