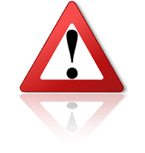 Dear Traders,
Please be careful there is a FRAUD in the market pretending to be our Gold Member Neil Cohen from Nextech in the USA.
The FRAUD uses the following details:
ncohen@nextechpatners.com (The R in the address is missing!)
T: + 1 601 324 0702
F: + 1 601 324 0708
The correct details for Neil Cohen are:
ncohen@nextechpaRtners.com
T: +1 4043072027
www.nextechpartners.com
The FRAUD is offering iPads in a deal too good to be true, payment to be made to an account not in the USA but in Turkey. Please pay good attention when dealing with a new supplier or customer and remember you can always double check with us.
Trade Safe,
Mario Biemans
Owner www.TheBrokerSite.com Europe's Leading Computer Trading Exchange since 1999!
Mobile: +31 621 546 725
Meet the people you trade with at the 16th www.EuropeanBrokerMeeting.com on the 12th and 13th of November at the Grand Elysee in Hamburg, more than 220 traders registered already download the attendee list here https://www.europeanbrokermeeting.com/attendees.php